Following on from the previous post, in this one I am going to cover deploying FSLogix configuration using an Azure Automation Runbook
For AVD I think of Azure Automation as Task Scheduler, only better, it is useful for a variety of tasks, for this post I will just cover the FSLogix config.
First up you'll need an automation account, if you don't have one already, here is the official MS guide:
https://docs.microsoft.com/en-us/azure/automation/automation-quickstart-create-account
Once you have your account, you need to create a runbook: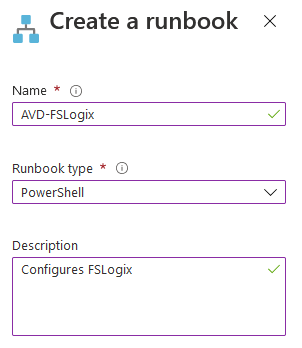 For this version we will need to manually enter the Resource Group name and the FSLogix profile path. In a future version I will attempt to automate these.
For now, grab the powershell code from here:
https://raw.githubusercontent.com/andrew-s-taylor/public/main/Powershell%20Scripts/AVD/configure-fslogix.ps1
Paste that into the Runbook, click Save and then click Publish
Now click the start button and enter the details: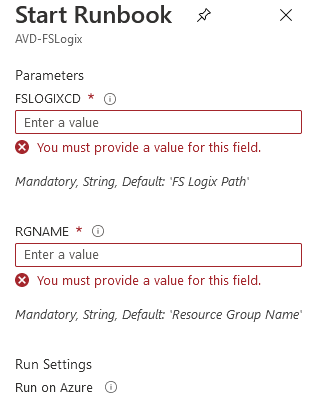 Then simply click OK and it will enter your path into the registry script, drop it onto each AVD host in the resource group and run the script
That's it, if you have more than one resource group with machines in, just run it twice.
The change any of the registry settings, simply amend the script section:

if((Test-Path -LiteralPath "HKLM:\SOFTWARE\FSLogix\Profiles") -ne $true) {  New-Item "HKLM:\SOFTWARE\FSLogix\Profiles" -force -ea SilentlyContinue };
    New-ItemProperty -LiteralPath "HKLM:\SOFTWARE\FSLogix\Profiles" -Name "Enabled" -Value 1 -PropertyType DWord -Force -ea SilentlyContinue;
    New-ItemProperty -LiteralPath "HKLM:\SOFTWARE\FSLogix\Profiles" -Name "VHDLocations" -Value $FSLogixCD -PropertyType String -Force -ea SilentlyContinue;
    New-ItemProperty -LiteralPath "HKLM:\SOFTWARE\FSLogix\Profiles" -Name "ConcurrentUserSessions" -Value 1 -PropertyType DWord -Force -ea SilentlyContinue;
    New-ItemProperty -LiteralPath "HKLM:\SOFTWARE\FSLogix\Profiles" -Name "IsDynamic" -Value 1 -PropertyType DWord -Force -ea SilentlyContinue;
    New-ItemProperty -LiteralPath "HKLM:\SOFTWARE\FSLogix\Profiles" -Name "KeepLocalDir" -Value 0 -PropertyType DWord -Force -ea SilentlyContinue;
    New-ItemProperty -LiteralPath "HKLM:\SOFTWARE\FSLogix\Profiles" -Name "VolumeType" -Value "vhdx" -PropertyType String -Force -ea SilentlyContinue;
    
    if((Test-Path -LiteralPath "HKLM:\SOFTWARE\FSLogix\ODFC") -ne $true) {  New-Item "HKLM:\SOFTWARE\FSLogix\ODFC" -force -ea SilentlyContinue };
    New-ItemProperty -LiteralPath "HKLM:\SOFTWARE\FSLogix\ODFC" -Name "Enabled" -Value 1 -PropertyType DWord -Force -ea SilentlyContinue;
    New-ItemProperty -LiteralPath "HKLM:\SOFTWARE\FSLogix\ODFC" -Name "VHDLocations" -Value $FSLogixCD -PropertyType String -Force -ea SilentlyContinue;
    New-ItemProperty -LiteralPath "HKLM:\SOFTWARE\FSLogix\ODFC" -Name "IncludeOneDrive" -Value 1 -PropertyType DWord -Force -ea SilentlyContinue;
    New-ItemProperty -LiteralPath "HKLM:\SOFTWARE\FSLogix\ODFC" -Name "IncludeOneNote" -Value 1 -PropertyType DWord -Force -ea SilentlyContinue;
    New-ItemProperty -LiteralPath "HKLM:\SOFTWARE\FSLogix\ODFC" -Name "IncludeOneNote_UWP" -Value 1 -PropertyType DWord -Force -ea SilentlyContinue;
    New-ItemProperty -LiteralPath "HKLM:\SOFTWARE\FSLogix\ODFC" -Name "IncludeOutlook" -Value 1 -PropertyType DWord -Force -ea SilentlyContinue;
    New-ItemProperty -LiteralPath "HKLM:\SOFTWARE\FSLogix\ODFC" -Name "IncludeOutlookPersonalization" -Value 1 -PropertyType DWord -Force -ea SilentlyContinue;
    New-ItemProperty -LiteralPath "HKLM:\SOFTWARE\FSLogix\ODFC" -Name "IncludeSharepoint" -Value 1 -PropertyType DWord -Force -ea SilentlyContinue;
    New-ItemProperty -LiteralPath "HKLM:\SOFTWARE\FSLogix\ODFC" -Name "IncludeTeams" -Value 1 -PropertyType DWord -Force -ea SilentlyContinue;'
All of the available options are here:
https://docs.microsoft.com/en-us/fslogix/profile-container-configuration-reference