Sometimes when working with an Intune environment, I find myself needing to assign all of the policies, apps etc. to a new Azure AD Group (new UAT group, changing from All Users etc.)
Currently, this is a VERY manual process, clicking on each in the web portal and then assigning, but thanks to PowerShell and Microsoft Graph (and a touch of JSON), now it's possible.
Introducing the Bulk Assignment GUI Tool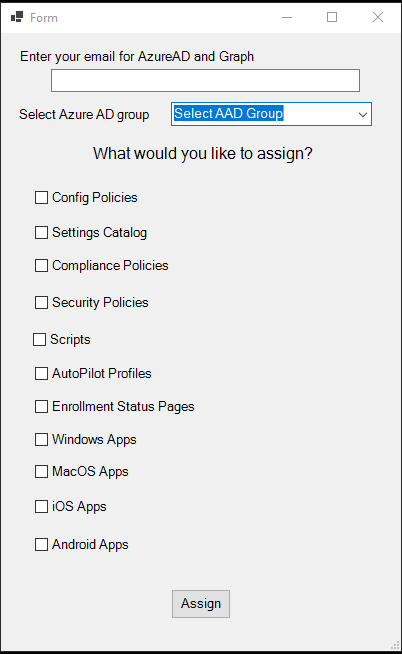 As with all scripts, it is available on Github here and also on PowerShell Gallery
Install-Script -Name bulk-assign-intune
I'm not going to run through the whole code here, but to run through what it does:
First up it installs the Azure AD Preview and Intune Graph PowerShell modules in the current user context
Then it will bring a prompt to connect to Azure AD and grab all of the AAD groups to populate the group drop-down
Once the GUI loads, you can pick what you want to assign and to which group.
On clicking Assign, it gets the ID of the AAD group, loops through everything in the selected categories and assign to the selected group.
For Windows, iOS and Android apps, it will assign the applications as Available to avoid having potentially hundreds of apps auto-installing!
For MacOS, Available isn't an option so this will mark as required so be extra careful with these
Hope this is of some use, happy assigning!!