I'm sure most if not all of you have a test tenant (never test in production) for new policies, features etc. What happens when you then want to push this change out to live (or even to multiple customers)? You either have to JSON the policy and run the script, use a backup and restore option, or worst case manually create the policy by hand.
Lucky for you, I have developed an update to my copy script which will now copy the policy across tenants
Updated – 24/02/2023
Version 6.0 released with a significant performance improvement
Updated – 27/01/2023
Version 5.0 just released with:
Support for automation
Support for Graph authentication via app registration
Added parameters for command line usage without GUI (and running in devops pipeline/runbook)
Added ability to copy using only policy name
Parameters for ID and Name support multiple entries comma separated
Update – 05/01/2023
Version 4.0 just released adding support for:
Policy Sets
Enrollment Configuration Policies
Device Categories
Device Filters
Branding Profiles
Admin Approvals
Intune Terms
Custom roles
Update 22/12/2022 – Version 3.2 supports Windows 365 Provisioning Policies and User Settings
Update 02/12/2022 – Version 3.1 now supports new Winget Store applications (and re-written to use Graph SDK)
Update 16/09/2022 – Version 3.0 now released with added support for Applocker policies, Imported ADMX, Conditional Access, Proactive Remediations and AAD Groups
UPDATE 28/08/2022 – Version 2.0 now released which supports multiple policy selection (Ctrl-Click) to fully migrate environments
The script can be found here
Or grab from PS Gallery:
Install-Script -Name copy-intune-policy-crosstenant
As with the previous script, when you run, it will prompt for your credentials and then list all of the configured policies in the tenant in a nice table: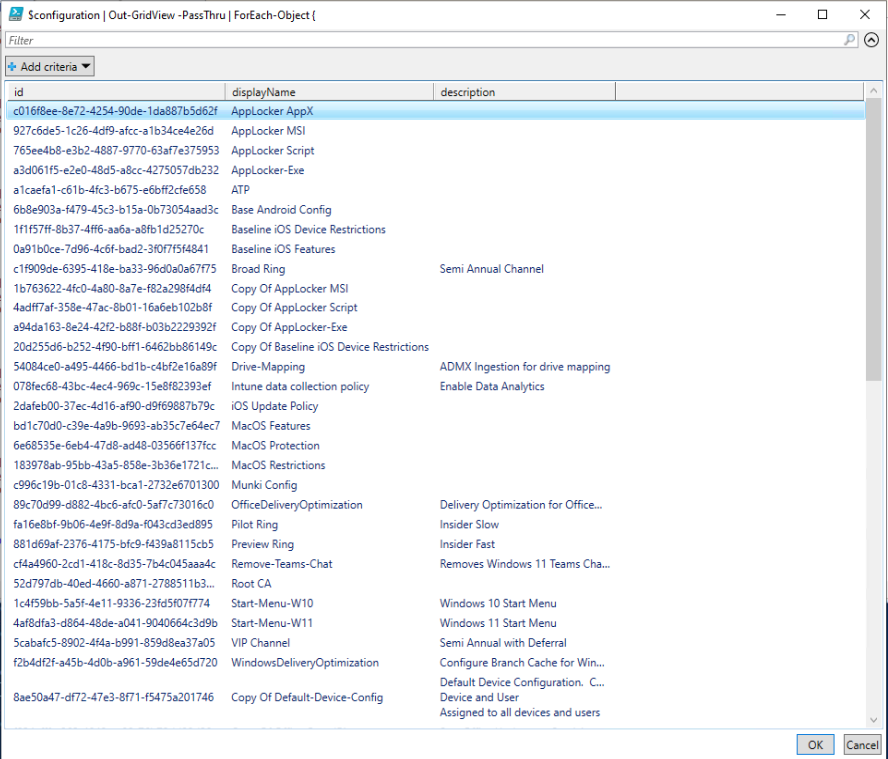 Simply select the policy, click the OK button and it will prompt for credentials for the destination tenant and do it's magic.
To avoid any naming issues, the new policy will be called "Copy of" Policyname (just in case it's an updated policy and you want to run side by side)
I hope this is of use, as always, feel free to comment below