I often find myself having to create the same selection of Azure AD groups when deploying a new Intune environment and whilst the Azure Portal is easy to use, I always look to find a way to cut down how long each task takes. The more I can automate, the more I can get done in a day.
To that end, I have created a new PowerShell script to automate the creation of the following groups:
As always, my script is available on GitHub here or on the PS Gallery
Install-Script -Name create-intune-groups
Autopilot Devices (a dynamic group on the ZTID)
Microsoft Project Install (a dynamic group based on users who have a MS Project license for desktop apps applied to their account)
Microsoft Project Uninstall (those who don't)
Microsoft Visio Install (a dynamic group for users who have a Visio license for desktop apps)
Microsoft Visio Uninstall (those who don't)
Microsoft Office Install (a dynamic group for users who have O365 Enterprise Apps license)
Microsoft Office Uninstall (those who don't)
Deployment Rings Groups – Preview Users, Pilot Users and VIP Users (Static, assigned groups)
The script can be called programmatically using a parameter (GroupName) with the options of Autopilot, Visio, Office, Project or Deployment. For example:
create-intune-apps.ps1 -GroupName Autopilot
Alternatively, if no parameter is supplied, it will popup a small GUI with buttons to create the groups: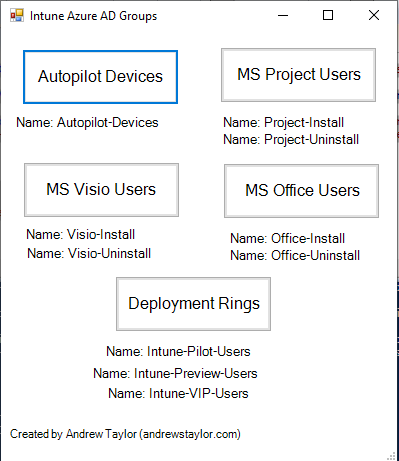 The script uses the Microsoft Graph module which it will install if required and load upon launch.
After that, the PowerShell command New-MGGroup sorts out the group creation. As an example, for Project Users:
New-MGGroup -DisplayName "Project-Install" -Description "Dynamic group for Licensed Project Users" -MailEnabled:$False -MailNickName "projectinstall" -SecurityEnabled -GroupTypes "DynamicMembership" -MembershipRule "(user.assignedPlans -any (assignedPlan.servicePlanId -eq ""fafd7243-e5c1-4a3a-9e40-495efcb1d3c3"" -and assignedPlan.capabilityStatus -eq ""Enabled""))" -MembershipRuleProcessingState "On"
As you can see, we are creating a Security Group (non mail-enabled) with the dynamic membership rule applied which queries the users servicePlanId.
If you are creating these manually, make sure the capabilityStatus is set to Enabled. Once a user has a license assigned, that serviceplan remains in place throughout and the status switches to Disabled. If you miss off that part of the query, removing a license will not remove them from the group (I found this out the hard way!)
Hope you find this useful.