Update – 02/08/2023
Added support for GitLab
Update – 07/03/2023
Launched Intunebackup.com to provide a web front end to the script running in an Azure Automation runbook (More info here)
Update – 05/03/2023
Version 5.0 released, changelog:
Added extra parameters to trigger backup or restore via ID or Name without GUI at single policy level
Added support for webhook
Replaced write-host with write-output for use with Azure Automation Runbook
Added parameter for filename to skip grid-view on automated restore
Bypass script check when running on webhook
Github fix to cope with large files
Update – 24/02/2023
Version 4.0 released with a significant performance improvement
Update – 16/02/2023
Version 3.0 now released with added support for Azure DevOps Repo as well as GitHub, can be hard-coded, or via launch parameters
Update – 05/01/2023
Version 2.0 just released adding support for:
Policy Sets
Enrollment Configuration Policies
Device Categories
Device Filters
Branding Profiles
Admin Approvals
Intune Terms
Custom roles
Introduction
If you are working with virtual machines, you would normally grab a snapshot before making any changes, so why can't we do the same with Intune/AAD config?
I have previously looked at backing up your Intune environment with an automated big-bang approach (post here), which works well, but:
Restoring isn't as easy as I would like
It's a big-bang restore, everything is restored
The names are the same so need to dig around to find which is the new one
Versioning isn't particularly straight forward
It uses the (whilst excellent) backup and restore module which relies on the Azure AD module (due for deprecation shortly)
With that in mind, I set about creating my own backup and restore script (yes, script, not module, it's a single file) which includes:
Selective backup, you can pick what policies, Conditional Access, AAD Groups, Proactive Remediations, Script etc. you want to backup (via GUI)
A few extra backup options over the previous script
Backup to a single file
Backup to a Private Github Repo to give you all of the goodness that brings
Backups include Commit messages so you know why you made them
You can pick which restore point to use
You can pick what to restore from the selected restore point
Whatever you restore will have "-restore-DATE" at the start of the name so you know what it is and when it was restored (date of restore, not date of backup)!
All written using the new Graph SDK
Everything you need to set is in parameters to be able to use across multiple customers
So, after many hours of work, here it is. As usual you can grab it from GitHub Here or the PSGallery:
Install-Script -Name intune-backup-restore-withgui
First I'll run through how the script works and then below how to configure the Github Repo, secret and automate it.
Usage
After configuring your Github repo, you need to run the script with the parameters required (available in get-help too)
intune-backup-restore-withgui.ps1 -type backup -selected some -reponame intunebackups -ownername my-github-account -token my-github-token
Type can be "backup" or "restore" depending on what you are doing
Selected can be "all" to simply grab or restore everything, or anything else will show the gui (it's an if/else query)
Backup
When running in backup mode, you will see a GUI asking what you want to backup:

You can filter and select multiple via Ctrl/Shift click
Clicking Ok will write them to a single json file and upload it to your specified Github repo including the current date/time to reference when restoring
Restore
When running in Restore mode, you will first see a GUI asking which backup you want to restore from: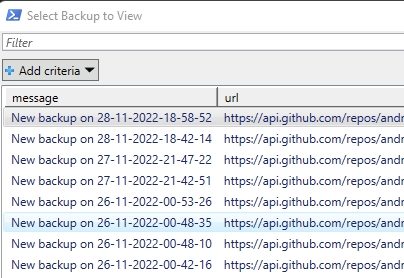 After selecting the backup, you will get another GUI showing the content within that backup where you can select what to restore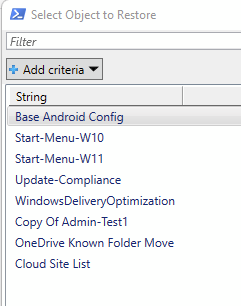 Click Ok and you'll see the policies in your tenant with "Restored" at the start of the name
Creating Github Repo and Token
Create a repository, public will also work, but private probably makes more sense for backups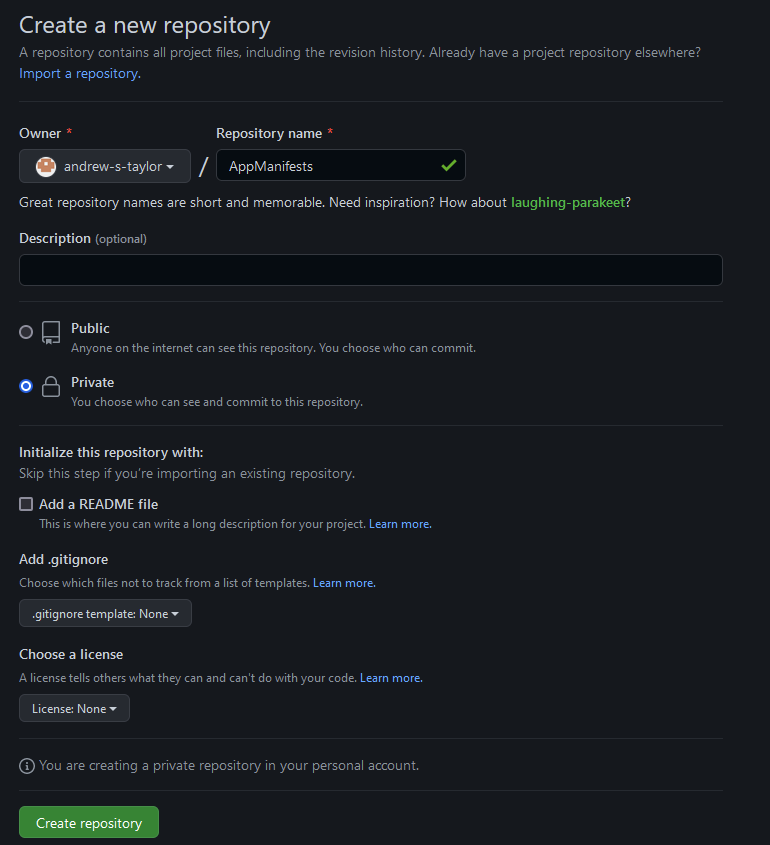 Now we need to create the token, in GitHub navigate to Settings (in the top right menu) – Developer Settings (at the bottom)
I'm using a Personal Access Token, but the API commands are all compatible with a GitHub App if you would prefer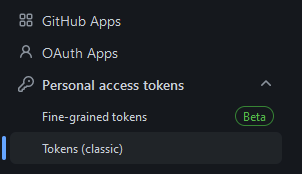 Generate a new classic token and grab the output, it only needs Repo access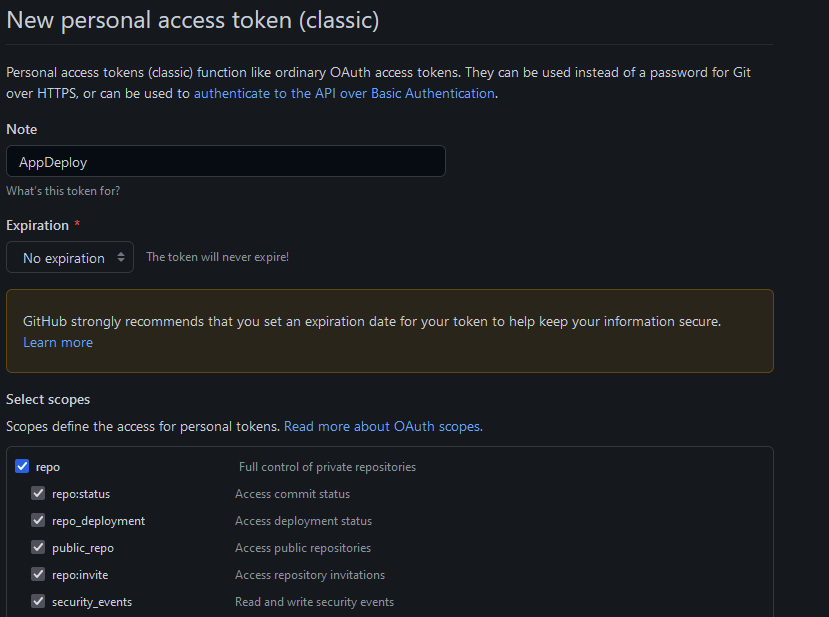 Azure AD App Registration
To use in Automated mode, you'll need to create a secret:
Navigate to Azure AD and click App Registrations, then create a new Application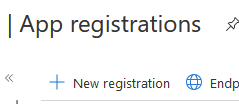 Give your application a name you will recognise and then select either Single Tenant or Multi-Tenant depending on your requirements, then click Register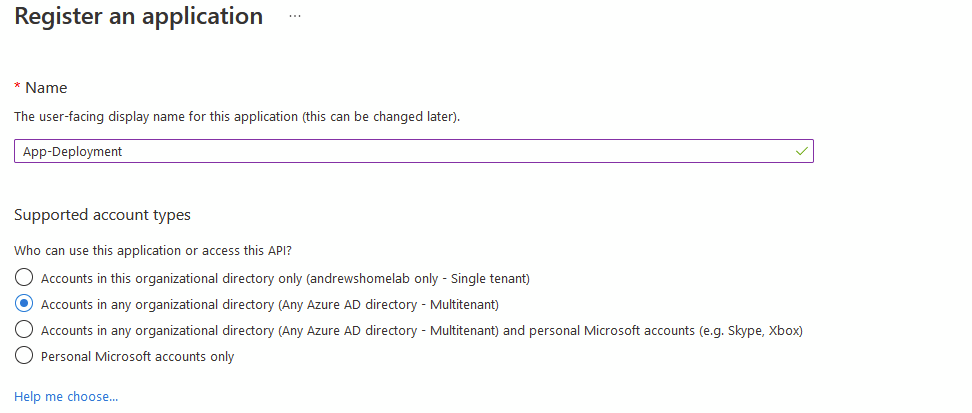 Grab the Application (Client ID) from the Overview screen
Now click Authentication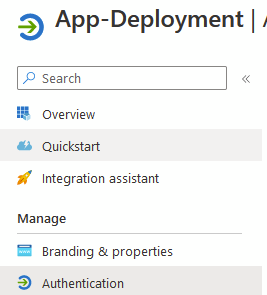 Click Add Platform

You want Mobile or Desktop Application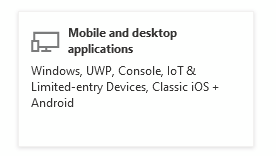 Tick the 3 boxes and click Configure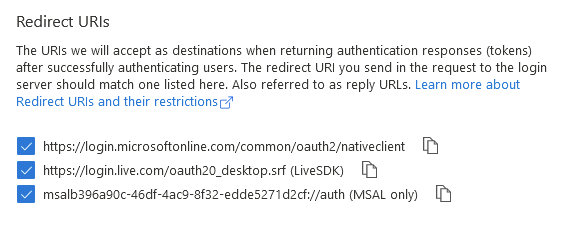 Next, select API Permissions and click Add a Permission
Select Microsoft Graph

Select Application Permissions

Add these:
DeviceManagementApps.ReadWrite.All
DeviceManagementConfiguration.ReadWrite.All
DeviceManagementManagedDevices.ReadWrite.All
Domain.Read.All
Group.ReadWrite.All
Organization.Read.All
Policy.ReadWrite.ConditionalAccess
RoleManagement.ReadWrite.Directory
DeviceManagementServiceConfig.ReadWrite.All
You'll see it's still not finished, you need to click Grant admin consent

Last step here, click Certificates & secrets
Add a new secret

Add a name you'll remember and set an expiry (I'm using 24 months because I'm lazy)

Copy the Secret Value somewhere safe, it won't re-display it and if you lose it you'll need to create a new one
Automating – Script Amendment
As you can see, normally this runs with a GUI and user authentication, but that won't work in an automated task.
To automate, change this line to "yes"
############################################################
$automated = "no"
############################################################
Then populate the variables:
$selected = "all"

$reponame = "YOUR_REPONAME_HERE"

$ownername = "YOUR_OWNER_NAME_FOR_REPO"

$token = "YOUR_GITHUB_TOKEN"

$clientid = "YOUR_AAD_REG_ID"

$clientsecret = "YOUR_CLIENT_SECRET"

$tenant = "TENANT_ID"
Automation Deployment
First, let's create the Azure Automation Account:
Search for Azure Automation in your Azure Portal and create the account: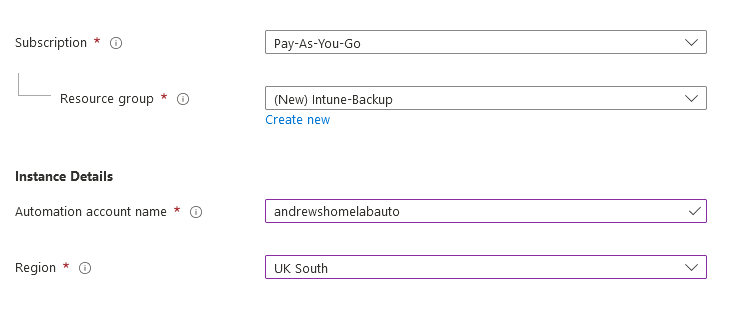 Now you'll need to publish some PowerShell modules to the runbook (watch the versions on the Graph modules, it needs the non-preview ones):
For each module, click this button:

https://www.powershellgallery.com/packages/PackageManagement/1.4.8.1
https://www.powershellgallery.com/packages/Microsoft.Graph.Authentication/1.19.0
https://www.powershellgallery.com/packages/Microsoft.Graph.Devices.CorporateManagement/1.19.0
https://www.powershellgallery.com/packages/Microsoft.Graph.Groups/1.19.0
https://www.powershellgallery.com/packages/Microsoft.Graph.DeviceManagement/1.19.0
https://www.powershellgallery.com/packages/Microsoft.Graph.Identity.SignIns/1.19.0
Create a new Runbook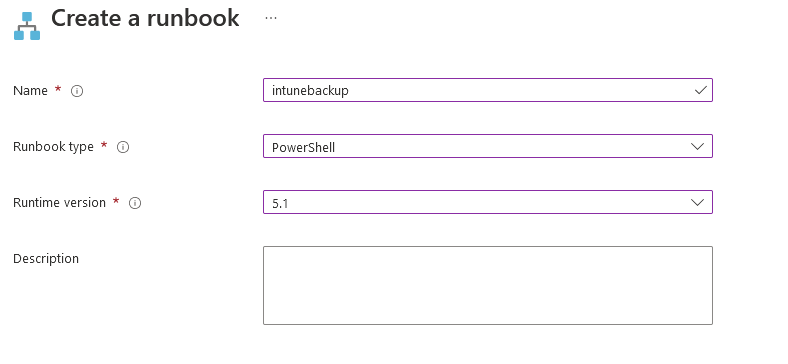 Add the PowerShell code you've amended
Click Test Pane to make sure it's worked
Now we need to publish it once it's tested ok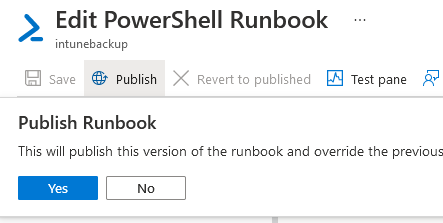 Now we can add a schedule to run it weekly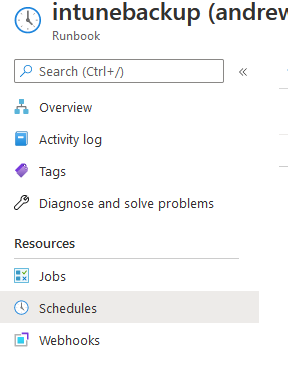 That's it, your basic weekly/daily/hourly backup is configured and will go direct to the Azure Storage Blob
If you want to get really clever, we can trigger a backup when a setting is changed within Intune using Event Hub. Follow my previous instructions here to create the event hub and link it to Intune and then use this logic app instead: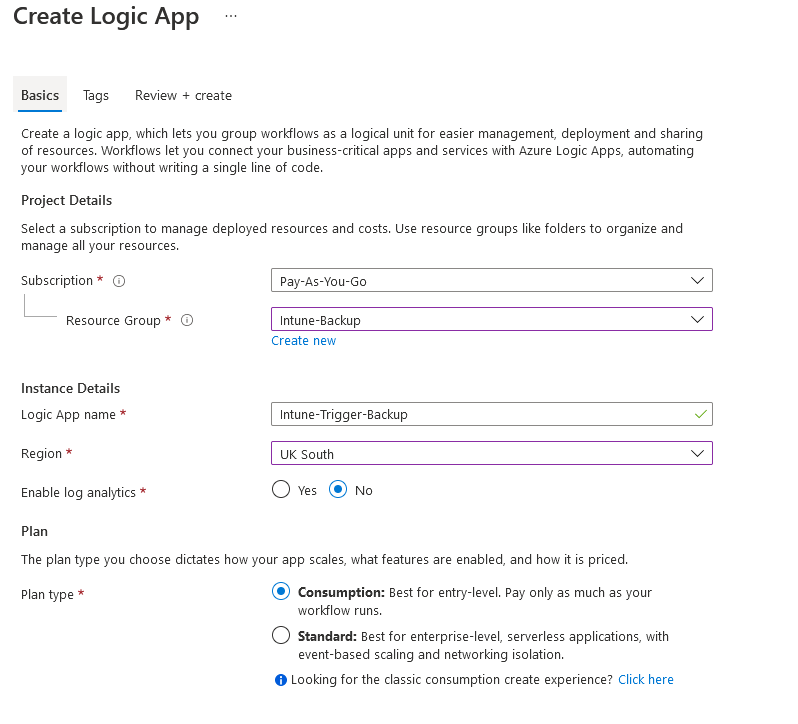 Select Event Hub as the trigger and use the connection string created before

For the action, find Azure Automation and set it to Create Job, then populate the details: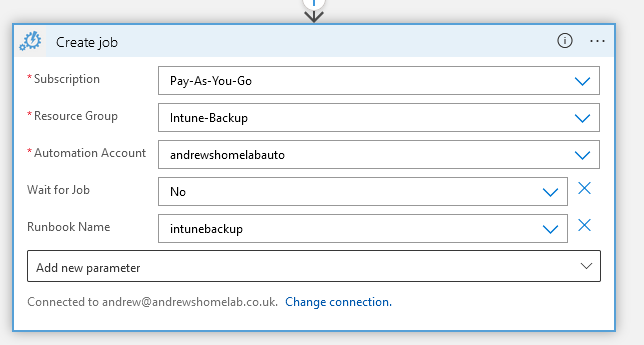 Then if any changes are made in Intune, you'll see your Automation Job activate: